We Service All Brands & Models
Same & Next Day Appointments
No-Obligation, Risk-Free Quotes
3 Years Warranty For Parts
Types of Refrigerators We Repair
We service and repair all household fridges, including built-in and stand-alone. A broken fridge is our problem. Don't waste your time trying to fix it by yourself, but trust the appliance issues to the professional service.
Free Standing
French-door – have dual refrigerator doors and a pullout freezer drawer for convenient fresh and frozen food storage.
Side-by-side – feature an adjacent refrigerator and freezer compartments that allow easy access to both sides.
Bottom-mount – convenient access to the frequently used fresh food compartments.
Top mount – the freezer is at eye level, with the fresh food compartment on the bottom.
Refrigerators (no freezer)
Built In
Traditional built-in refrigerator
Integrated fridges
Column refrigerators
Get your discont
Enjoy this special offer for your Refrigerator Repair.
$25 OFF
On Refrigerator Repair
Redeem online on repairs only.
Use Coupon
Common Refrigerator Issues
Our technicians have the expertise needed to troubleshoot and repair your refrigerator, regardless of the problem. Listed below are the most frequent issues we see:
Refrigerator Is Too Warm
This issue is relatively common, however, it is also the one that may take quite a while to diagnose. Sometimes it may be enough to either clean your condenser coils from dust or rearranging food items inside the chamber, however, if the problem is serious enough it may be caused by a more serious issue with your appliance.
Fridge Is Freezing Over and Won't Defrost
This problem can often be caused by a faulty control board or compressor, however, we would suggest that you call a technician for proper diagnostics instead of trying to repair the appliance on your own. Also, avoid removing the ice manually, since it may damage the piping on the back of your appliance.
The Door Gasket Is Cracked, Damaged or Needs to Be Replaced
A damaged door gasket means some cool air from your refrigerator is leaking outside. As a result, it will force the refrigerator to work more and will drastically increase the energy consumption.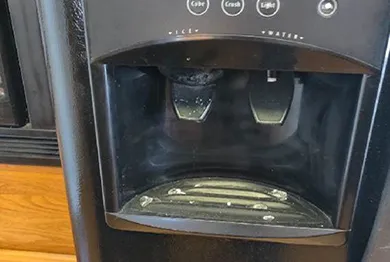 Water Dispenser is not Dispensing Water or Leaking
The first thing that comes to the mind is that you might want to replace the water dispenser itself, however we would warn you against doing so. The problem can often lie in the bad water pipe connection, a faulty valve, etc.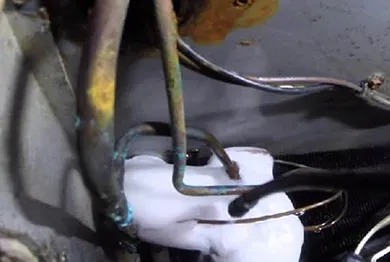 Fridge Has a Freon Leak or Needs Freon Replaced
Replacing Freon can be a bit tricky – it requires special skills and equipment. However, we will gladly help you with this issue in Ramics Appliance Repair!
Refrigerator Won't Turn On
This problem can be encountered with nearly any appliance. It may be a result of a short, burnt fuse or damaged circuitry.
Fridge Runs For Too Long And Won't Turn Off
Of course, there may be numerous reasons, which lead to this problem. Is your refrigerator actually managing to keep the temperature low? Or maybe the fridge is just working less efficiently now and it is trying to compensate by running overtime?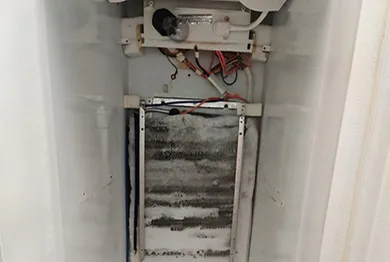 Other frequent problems include
The fridge is too noisy. The light won't turn on when the door is open.We would like to point out that this is not a complete list of refrigerator problems we work on. If you have a problem which is not on the list feel free to call us anyway!
What Our Customers Say About Us
156 reviews on
Catherine Helmholz
2023-08-26
My washing machine had on and off problem and required emergence service. So I contacted the store from google. The service was smooth and they work with skilled and effective workers. They offer home service and the service man were also kind and patient to solve the issue.
Marilee Hulgan
2023-06-10
What experience....? took him 3mins and he charged me 65.00 checked one thing and he was done I asked about a part he said it was too expensive to order and left.
I had a wonderful experience working with Ramics Repair. Alex was professional, efficient, and knowledgeable. He took the time to explain what was wrong with my dishwasher and how he would fix it. He also communicated clearly about the costs and was able to work with my home warranty company. After repairing the problem, he even took the time to adjust the alignment of my dishwasher to make it easier to close and replaced a screw that had been missing. I would highly recommend Ramics Repair.
Liratexan The Israelite
2023-05-27
Janet Jacobson
2023-05-26
Christopher Lonergan
2023-05-24
The technician was excellent! He was on time, knew his stuff, and worked efficiently. Great service!
Ramics-repairs Inc is the best👌 The service man, Aleksey, came on time, got fridge fixed on timely manner with a reasonable repairs cost. He his so professionally and experienced individuals. I will recommend the company and the company's service crew including Aleksey to anyone around here who needs the kind of services they offer. Thank you Ramics-repairs Inc, thank you Aleksey.
Repair of All Appliance Brands
We service over 70 brands, so you don't need to call two companies if you own appliances from different brands. These brands include Amana, Bosch, Dacor, DCS Fisher & Paykel, Frigidaire, GE, Jenn Air, Electrolux, KitchenAid, Liebherr, LG, Maytag, Miele, Thermador, Sub-Zero, Samsung, Sears Appliances –Kenmore, Viking, Whirlpool, Wolf and many more. Most of our repair bookings for appliance repairs are attended on the same day.